---
Consolidation Centres Can Improve Air Quality in Towns and Cities 17/7/18

Project formally ends (30/4/18)

Final conference reported in Newsletter #6 30/4/18

Transferability leaflet 30/4/18

Observatory brochure updated 19/4/18

Living lab handbook 18/4/18

Final conference, 23/24 April, Brussels

Oslo video 5/4/18

Poste Italiane video 27/3/18

Future Public Sector Logistics Consolidation 23/2/18

Mobility is a Serious Game! 23/1/18

Newsletter #5 issued 20/12/17

Brussels-Mobility freight video 18/12/17

Brussels-Capital SUMP award 18/12/17

Implementation posters 8/11/17

Citylab event in Rome 20/10/17

METRANS UF Conference presentations 17/10/17

Citylab at the Civitas Forum 27/9/17

Living lab updates 27/9/17

CiTTi conference article 13/10/17

Living lab animation 25/9/17

Instant deliveries presentation 30/8/17

Consolidation and EV presentation 22/6/17

Newsletter #4 issued 31/5/17

Freight observatory findings 17/5/17

Right on time! presentation 9/4/17

Freight in the City presentations 1/3/17

Implementation dashboards now live 28/2/17

European Review of Regional Logistics (including feature on Citylab) 20/12/16

LONDON


Motivation and concept
The motivation is to increase the market of electric freight transport by improving business models for clean deliveries with tricycles and other electric vehicles. The concept is explored in collaboration with TNT and Gnewt Cargo. Gnewt Cargo has several years of experience operating clean vehicles in London and they are aiming at improved efficiency and profitability of their operations. They need to establish the most suitable arrangement of distribution centres, vehicle types and operating patterns. In the CITYLAB London implementation, TNT is increasing its use of Gnewt Cargo as a subcontractor for last mile deliveries in London, while trying to find a business model that is acceptable for both parties.
Comparison of new and baseline operations
Implementation and legacy
Several issues have been identified during planning of the implementation. Contracts had to be renegotiated when one subcontractor had to be replaced by another one (Gnewt Cargo) and operational changes took more time than anticipated. One significant challenge was that the existing Gnewt Cargo depots in central London were not sufficiently accessible for big trucks and there was therefore a need to explore alternative depot locations. The conclusion was that a new TNT depot would be set up in Bermondsey and a trial has been running since August 2016. The implementation started with 5 new routes run by Gnewt Cargo via the TNT depot in Bermondsey. Data was collected for evaluation purposes and new domestic TNT routes were added to the operations of Gnewt Cargo.
A dissemination workshop Growth of electric freight and consolidation in urban logistics' was held 12 May, 2017 in London. Benefits observed were 67% distance reduction per parcel and 100% tailpipe emission reduction.

As legacy, the implementation has provided useful insights of benefits expected, opportunities, and threats for scaling up the solution and the conditions for success and future growth of consolidation and electric van deliveries are clarified.
Cartoon illustrating the concept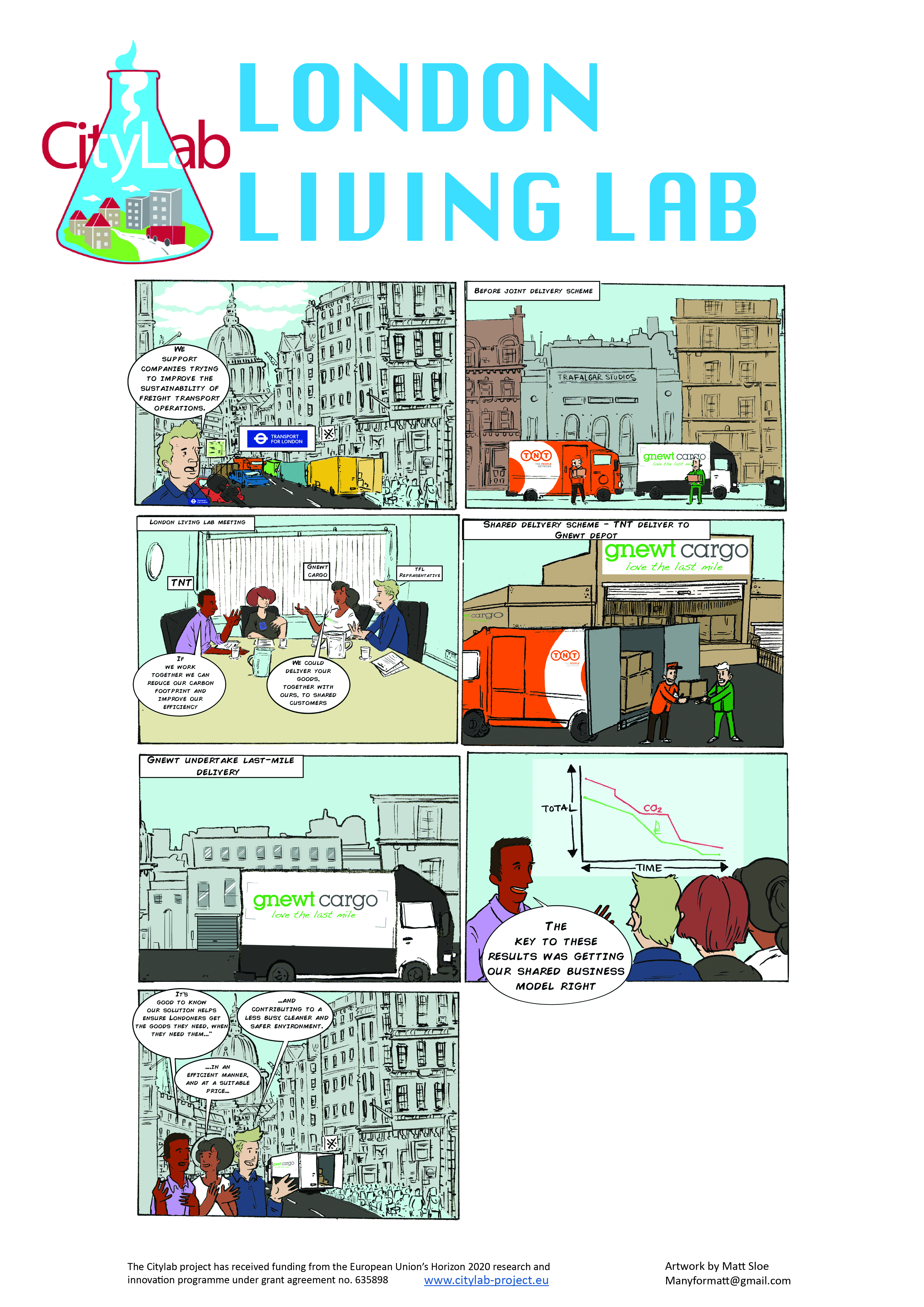 Cartoon produced by: Matt Sloe Link to full-size cartoon