---
Consolidation Centres Can Improve Air Quality in Towns and Cities 17/7/18

Project formally ends (30/4/18)

Final conference reported in Newsletter #6 30/4/18

Transferability leaflet 30/4/18

Observatory brochure updated 19/4/18

Living lab handbook 18/4/18

Final conference, 23/24 April, Brussels

Oslo video 5/4/18

Poste Italiane video 27/3/18

Future Public Sector Logistics Consolidation 23/2/18

Mobility is a Serious Game! 23/1/18

Newsletter #5 issued 20/12/17

Brussels-Mobility freight video 18/12/17

Brussels-Capital SUMP award 18/12/17

Implementation posters 8/11/17

Citylab event in Rome 20/10/17

METRANS UF Conference presentations 17/10/17

Citylab at the Civitas Forum 27/9/17

Living lab updates 27/9/17

CiTTi conference article 13/10/17

Living lab animation 25/9/17

Instant deliveries presentation 30/8/17

Consolidation and EV presentation 22/6/17

Newsletter #4 issued 31/5/17

Freight observatory findings 17/5/17

Right on time! presentation 9/4/17

Freight in the City presentations 1/3/17

Implementation dashboards now live 28/2/17

European Review of Regional Logistics (including feature on Citylab) 20/12/16

Sharing Economy Logistics: Access Over Ownership, 28th March 2018, Brussels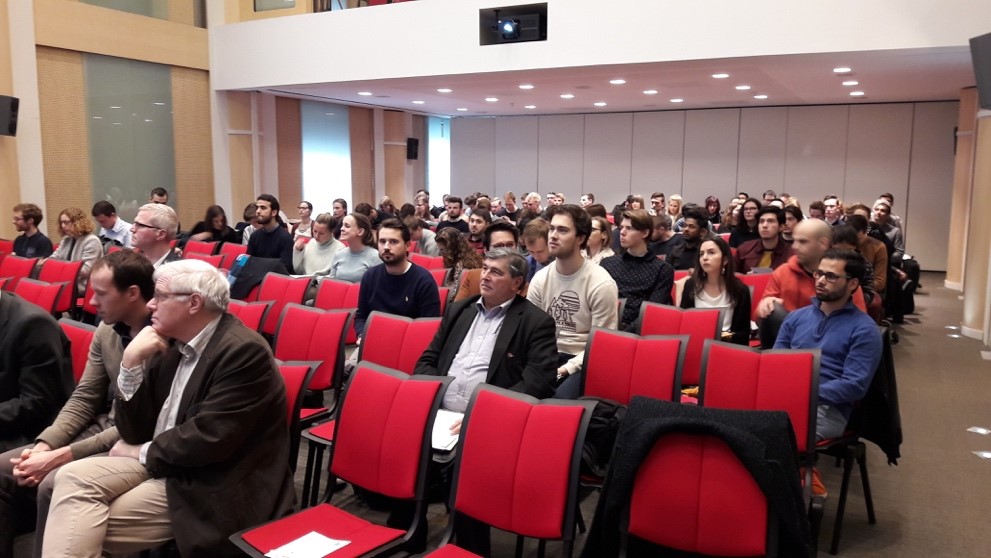 Hosted by Citylab partners Vrije Universiteit Brussel (Mobility, Logistics & Automotive Technology Research Centre (VUB-MOBI)) and chaired by Dr Sara Verlinde (VUB-MOBI), Professor Cathy Macharis (VUB-MOBI) welcomed the 80 or so participants, including a substantial cohort of supply chain management students.

All presentations are here or click on links to individual presentations below.

Sara Verlinde (VUB-MOBI) presented an introduction to Sharing Economy Logistics which set out the concept of sustainability through the sharing of logistics processes and physical distribution from a personal to an organisational basis covering the sharing of planning, sorting and distribution capacity, including featured examples of crowd logistics, asset and capacity sharing, consolidation and multi-customer warehousing. Link to presentation
Lieven Deketele (Procter and Gamble) and Bram Kin (VUB-MOBI) presented the work undertaken in the Citylab project on Increased Vehicle Loading by Utilising Spare Transport Capacity. The challenge of efficient supply to 900 small grocery outlets in Brussels (referred to as nanostores) was taken up to reduce emissions by substantially reducing the number of vehicles delivering to them by Procter & Gamble utilising spare capacity of local delivery vehicles operated by a number of service partners including Febelco (pharmacy supplies). The challenge was principally one of culture, with the small shops mostly traditionally family owned. The presentation explained this ambitious multi-supplier program, more of a social and cultural network than a pure logistics challenge, demonstrating useful learning as a Living Lab. Link to presentation
Jan Merckx (VIL) and Heleen Buldeo Rai (VUB-MOBI) presented on Crowd Logistics. Crowd logistics empowers private individuals or semi-professionals to transport, deliver and consolidate goods. This is a new societally-driven business model particularly suited to resolving fragmented e-commerce deliveries via private intermediaries to bridge the gap between working consignees absent from the delivery point (home) and the risk of loss of unaccompanied goods. It raises a number of legal questions (local employment regulation and practice) and of security, trust and maximising knowledge of local topography.
Link to presentation
Alex Van Breedam (Trivizor, pictured below) and Luc D'Hondt (Delhaize) presented on Shared Warehousing. As part of the NexTrust program "Building sustainable logistics through collaborative networks across the entire supply chain" this presentation concentrated on the collaboration of major suppliers to ensure maximum trunk and regional delivery vehicle fill and to minimise network wastage by sharing routes and fulfilment centres. Link to presentation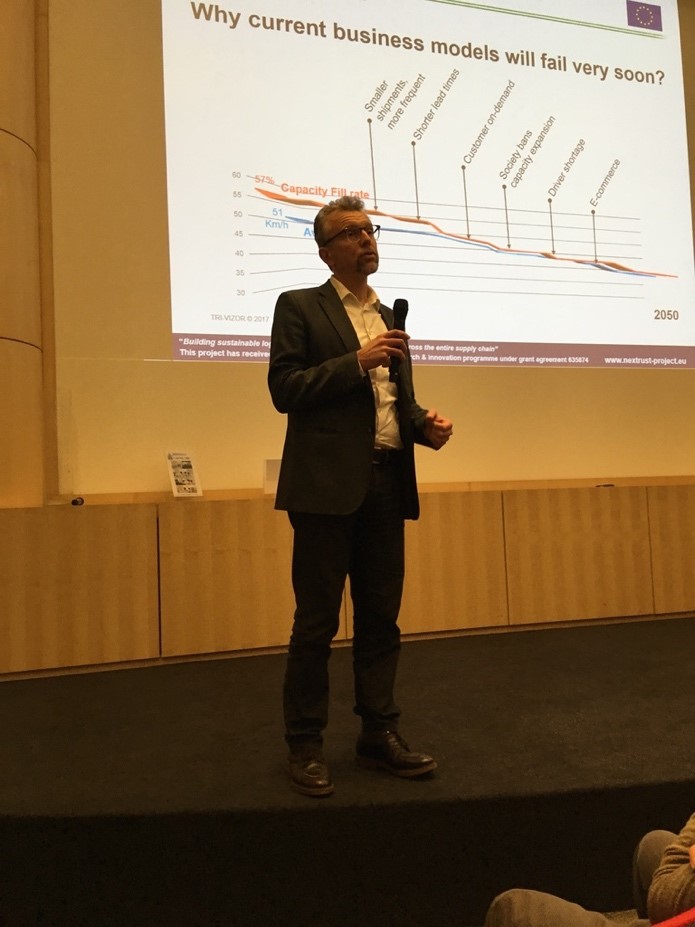 Patrick van Vlaenderen (CityDepot) presented How to Optimise Urban Supply Chains. The CityDepot project started as a non-profit initiative but is now a subsidiary of Bpost, with 57 employees. Within a few years CityDepot became a specialist in smart urban distribution by offering a total solution for the sustainable distribution of goods to the inner city and back. It developed a platform to connect transporters, large retailers and brands, small retailers, e-commerce companies, cities, (semi-)public organizations and consumers. By interconnecting depots in different cities, a lot of actual urban distribution can be removed from the inner city. By bundling volumes and creating optimum inner city rounds, they can provide the most cost efficient deliveries. It also developed customized and personalized solutions for all these stakeholders, not only for inner city distribution but for the optimization of first mile transport, storage management for suppliers and retailers and e-fulfilment (ICT is key). Link to presentation
Q & A on shared warehousing

Q. Is a platform organised by a major retailer, not an obstacle for fair competition between logistic providers?
A. The platform can decide to involve more than one provider, and the fair distribution of costs and benefits between all stakeholders is maintained. What a platform brings in the first place, is efficiency.

Q. Is there a difference between the collaboration of local authorities in different cities? Do mobility plans for sustainable mobility (as in Ghent) favour a CityDepot type of approach?
A. Not really, because licenses for every vehicle of every stakeholder are required (which means, in this case, electrical vehicles), limited working hours are imposed, and so on.

Q. Is the storage facility an asset for all stakeholders or an opportunity for some?
A. The storage facility in CityDepot is limited but can be rapidly organized for short periods and for bundling. The group of cookies producers is an example.

Q. Is the platform formula an application of a theoretical model?
A. Not necessarily. The main idea is to reduce the large number of movements (the so-called spaghetti) between a broad range of providers and a range of retailers. But the realisation of the platform passes through the integrating of all the solutions of every individual stakeholder.