---
Consolidation Centres Can Improve Air Quality in Towns and Cities 17/7/18

Project formally ends (30/4/18)

Final conference reported in Newsletter #6 30/4/18

Transferability leaflet 30/4/18

Observatory brochure updated 19/4/18

Living lab handbook 18/4/18

Final conference, 23/24 April, Brussels

Oslo video 5/4/18

Poste Italiane video 27/3/18

Future Public Sector Logistics Consolidation 23/2/18

Mobility is a Serious Game! 23/1/18

Newsletter #5 issued 20/12/17

Brussels-Mobility freight video 18/12/17

Brussels-Capital SUMP award 18/12/17

Implementation posters 8/11/17

Citylab event in Rome 20/10/17

METRANS UF Conference presentations 17/10/17

Citylab at the Civitas Forum 27/9/17

Living lab updates 27/9/17

CiTTi conference article 13/10/17

Living lab animation 25/9/17

Instant deliveries presentation 30/8/17

Consolidation and EV presentation 22/6/17

Newsletter #4 issued 31/5/17

Freight observatory findings 17/5/17

Right on time! presentation 9/4/17

Freight in the City presentations 1/3/17

Implementation dashboards now live 28/2/17

European Review of Regional Logistics (including feature on Citylab) 20/12/16

City deliveries using micro-hubs and innovative freight bikes, 8th March 2018, Amsterdam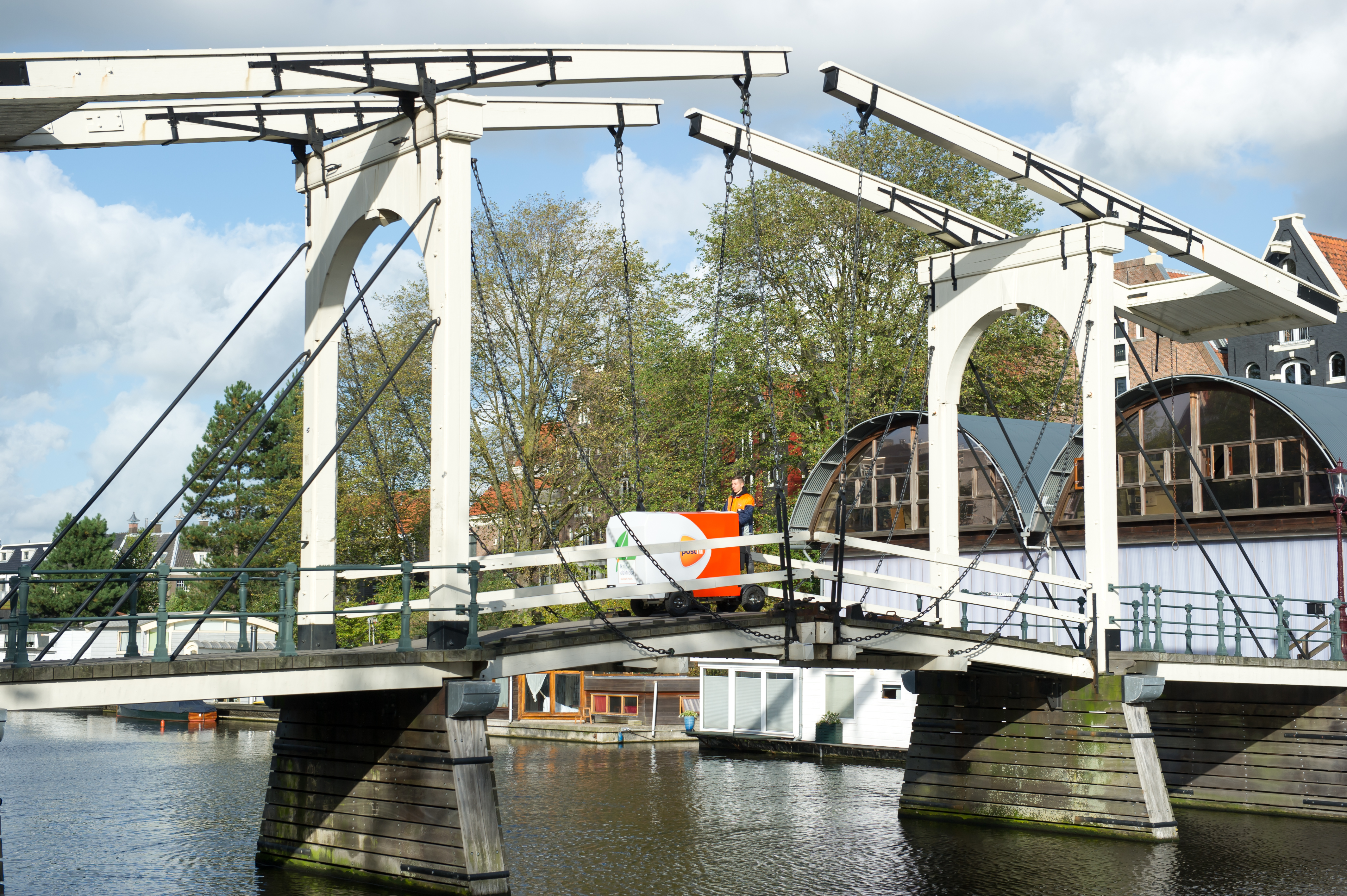 Hosted by the City of Amsterdam, PostNL and TNO and chaired by Professor Michael Browne (University of Gothenburg),
Tariq van Rooijen (TNO) welcomed the 45 participants.

All presentations are here or click on links to individual presentations below.

Jardar Andersen (TOI) introduced the Citylab project and summarised the activities taking place in the six other cities: Brussels, London, Oslo, Paris, Rome and Southampton. Link to presentation
Erik Regterschot (City of Amsterdam, Department for Sustainability) described the city context:
5% growth in van traffic per annum, based on camera counts, with currently 30,000 vans recorded daily inside the ring road
Air quality is the city's main policy trigger with the aim for the majority of vehicle types to be emission free by 2025 and larger trucks and coaches to be clean
Planned or current initiatives include low emission zones, bans on large vehicles (>7.5T) from the city centre, incentives for electric vehicles (e.g. parking on sidewalks and subsidies). The city is also interested in introducing a congestion charge; however that is not currently permitted in national legislation.
In the Q&A, Erik said that no incentives are given for cargo-bikes as they consider that bikes do not require subsidy and as there are already too many bicycles in the city. They may however consider making more space available for bikes in general. The approach in Amsterdam is aligned with other Dutch cities in terms of the national Green Deal and LEZs. Link to presentation
Laurens Tuinhout (PostNL) described their journey throughout the Citylab project from the original concept of using a floating depot on the canals to the present-day use of micro-hubs and innovative freight bikes. The floating depot remains of interest if costs can be reduced (e.g. by using a roboboat) or if the alternative becomes unviable (e.g. if trucks are banned). He mentioned that the city plays an important role and use their procurement power to force use of consolidation hubs and zero emission vehicles operating out of them and that many more micro-hubs will be needed to cope with future demand. PostNL currently run an urban consolidation centre at Deudekom, Amsterdam.

In the Q&A, it was observed that canals and quayside space seem to be very busy; however, PostNL were able to identify some suitable berthing locations. The use of a swap body may be considered although an issue would be the requirement for cranes. Some competitors already use canals, for example DHL use them for transporting small parcels and using cubi-cycles.
Link to presentation
Nanette Wielenga (PostNL) presented the bikes and stints (segway) they use and the daily operations they undertake. Bikes can save time as routes can be shorter and avoid traffic congestion. PostNL own 6 of the 7 micro-hub locations they are currently using, the other being rented. They make around 1500 orders/day covered by 24 rides in the morning and 36 in the evening. They have learned by doing.

In the Q&A, Nanette said they plan to expand operations to other Dutch cities to meet the growing demand for instant deliveries. A smartphone app for riders to use is being tested which will help them navigate and track bikes for rider safety. Bikes can also be used for return logistics (i.e. collecting parcels). Postal charges are identical for bike and non-bike deliveries and customers are not given a choice about transport mode. They intend to keep a mixed vehicle fleet as there is no 'best bike': all have their uses and provide flexibility. Link to presentation

Nanette Wielenga - short video welcome to PostNL hub

Hans Quak (TNO) presented on behalf of the City of Rotterdam which, compared to Amsterdam, had much larger and open streets, permitting more truck use. Air quality is a fundamental issue there too, especially NOx, where trucks contribute 37% of overall road vehicle emissions despite only representing 1.3% of the vehicle population. The living lab approach, as championed by the Citylab project, dates back to around 2014 in Rotterdam with collaborative initiatives including the VREF Centre of Excellence for Sustainable Urban Freight Systems and Ecostars and, at a national level, agreements were made between the Dutch government and other companies, authorities and NGOs in order to promote sustainability. Related to this, a community of 'FrontRunners' organise twice-yearly conferences. Some of the logistics approaches that are promoted include avoiding peak times, facilitating decoupling points and efficient procurement. One street in Rotterdam is restricted to zero-emission vehicles and further low-emission zones are being considered. Good driving behaviour is also encouraged with a best driver competition, run using a smartphone app, providing an incentive. Link to presentation
Laetitia Dablanc (IFSTTAR/Université of Paris-Est) presented some of the more challenging social issues of fulfilling instant deliveries using bikes, drawn from a comprehensive study undertaken within the Citylab project and reported in detail here. A survey of 100 bike riders revealed their main concerns, including personal safety, poor weather conditions, bike theft, bike problems, having to wait for food to be ready, poor road infrastructure (e.g. potholes, lack of bike lanes), pollution. Poor working conditions have led to protests, strikes and legal challenges, mainly in the USA and UK, although it can be difficult to organise collective groups. Such issues are now also being discussed within French legal circles. Some road safety statistics now segregate delivery riders as a distinct category which will provide evidence of a safety issue that has been invisible to date.

In the Q&A there was discussion of operators that had gone bust due to investors withdrawing as it seems that businesses are not currently making any profit. With instant deliveries representing 5% of all deliveries in Paris in 2016 concern was raised that lack of round planning would be highly inefficient. It was suggested that public transport might be used for some delivery trips. Link to presentation
Site visit to PostNL hub
This provided the participants the opportunity to see and ride the bikes and stints at one of the hubs used by PostNL. As many people attended, the largest of their hubs was chosen for the visit, located at Sloterdijk, Amsterdam. This facility includes a covered area for charging of vehicle batteries.


Video of participants riding bikes and stints