---
Consolidation Centres Can Improve Air Quality in Towns and Cities 17/7/18

Project formally ends (30/4/18)

Final conference reported in Newsletter #6 30/4/18

Transferability leaflet 30/4/18

Observatory brochure updated 19/4/18

Living lab handbook 18/4/18

Final conference, 23/24 April, Brussels

Oslo video 5/4/18

Poste Italiane video 27/3/18

Future Public Sector Logistics Consolidation 23/2/18

Mobility is a Serious Game! 23/1/18

Newsletter #5 issued 20/12/17

Brussels-Mobility freight video 18/12/17

Brussels-Capital SUMP award 18/12/17

Implementation posters 8/11/17

Citylab event in Rome 20/10/17

METRANS UF Conference presentations 17/10/17

Citylab at the Civitas Forum 27/9/17

Living lab updates 27/9/17

CiTTi conference article 13/10/17

Living lab animation 25/9/17

Instant deliveries presentation 30/8/17

Consolidation and EV presentation 22/6/17

Newsletter #4 issued 31/5/17

Freight observatory findings 17/5/17

Right on time! presentation 9/4/17

Freight in the City presentations 1/3/17

Implementation dashboards now live 28/2/17

European Review of Regional Logistics (including feature on Citylab) 20/12/16

OSLO


Oslo implementation video

Motivation and concept
Shopping centres often represent challenges for logistics service providers, as individual retailers may be located far from the freight receipt area, and the norm is that truck drivers have to bring all items to the shop. In Norway, shopping centres represent around 30% of retail trade. Steen & Strøm AS is a Nordic branch of the Klépierre group who are planning a new shopping centre at Økern in Oslo with a goal to establish common functions for inbound and outbound freight flows. Previous demonstrations and analyses have suggested that such functions should be operationally and financially viable. The implementation will facilitate identification of consolidation opportunities for logistics service providers as well as off-hour deliveries as the transport leg and in-house transport leg in the shopping centre may be decoupled. The shopping centre is expected to open in 2022. An aim of Steen & Strøm is to raise the priority of freight and to include stakeholders early in the planning process in order to improve the delivery of goods. In the present blueprint, although not yet final, the idea is to establish easy access, reduce delivery times and damage (e.g. from trucks hitting infrastructure). The preferred solution will depend on stakeholder views, which stakeholder groups contribute and internal processes at Steen & Strøm.
Implementation status and next steps
The CITYLAB project contributes to the planning of freight receipt areas by facilitating collaboration between relevant stakeholders through knowledge generation and dialogue between different stakeholders in the Oslo living lab. The idea is to ensure the possibility of representation for all potentially relevant stakeholders, thus, providing an informal structure in which the partners can collaborate. Representatives of Steen & Strøm and the Institute of Transport Economics (TOI) participated in a study trip to the Swedish shopping centre Emporia in December 2015 to obtain experiences from common logistics functions there, operated by the company Logistikbolaget AB. In May 2016, there was a large discussion meeting involving logistics service providers, retail chains, a potential service operator (Collicare Instore) and the Oslo living lab partners Steen & Strøm, City of Oslo and TOI. From the initial drawings of the centre, the area dedicated for buffer storage close to the freight unloading areas has been extended to facilitate the common logistics functions – based on input from the other stakeholders during the meetings and discussions.
Local workshop "Logistics strategies for shopping centres - how to improve the efficiency of delivery and service vehicle activity", was held 7 June, 2017
Link to workshop report

Cartoon illustrating the concept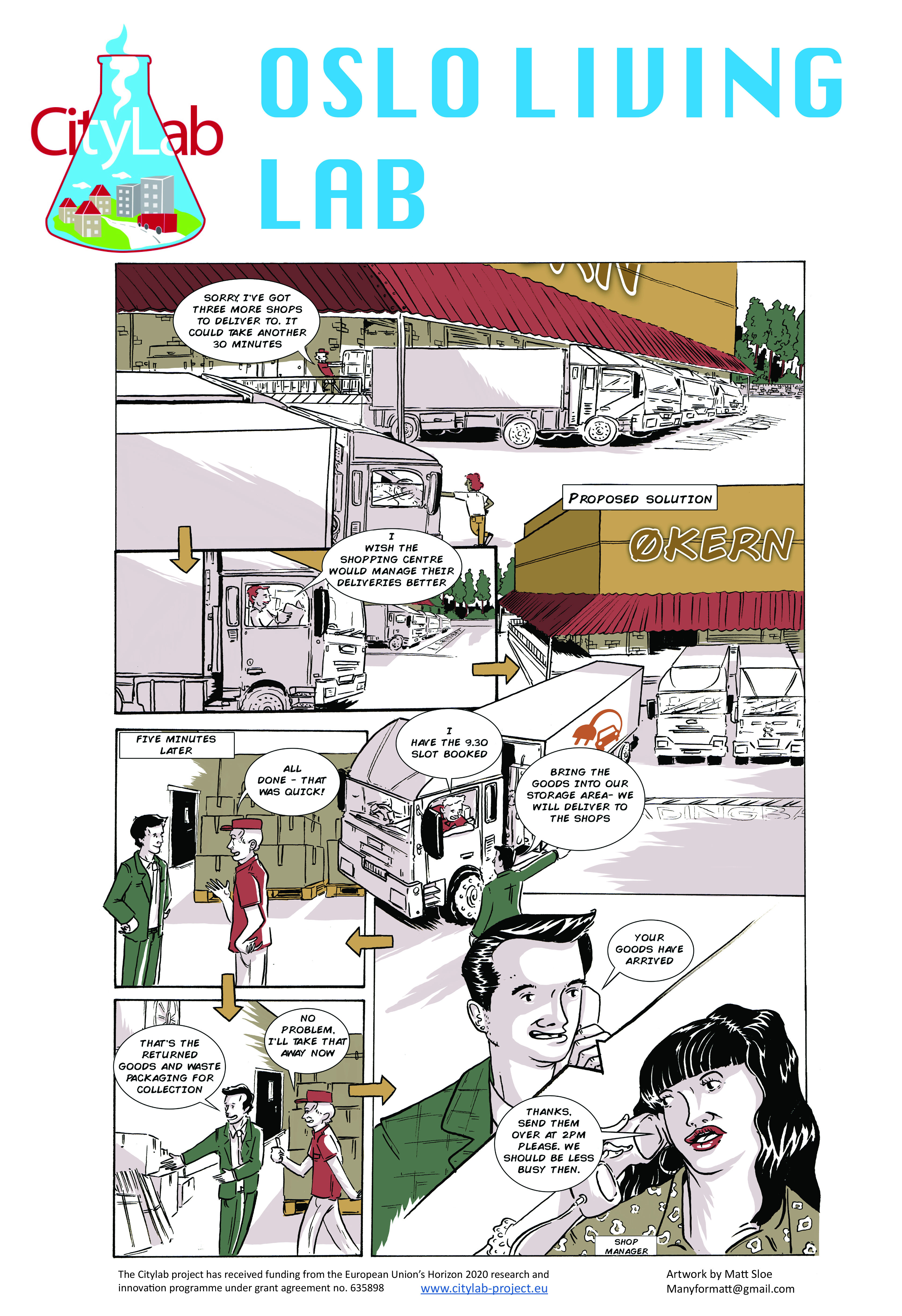 Cartoon produced by: Matt Sloe Link to full-size cartoon