---
Consolidation Centres Can Improve Air Quality in Towns and Cities 17/7/18

Project formally ends (30/4/18)

Final conference reported in Newsletter #6 30/4/18

Transferability leaflet 30/4/18

Observatory brochure updated 19/4/18

Living lab handbook 18/4/18

Final conference, 23/24 April, Brussels

Oslo video 5/4/18

Poste Italiane video 27/3/18

Future Public Sector Logistics Consolidation 23/2/18

Mobility is a Serious Game! 23/1/18

Newsletter #5 issued 20/12/17

Brussels-Mobility freight video 18/12/17

Brussels-Capital SUMP award 18/12/17

Implementation posters 8/11/17

Citylab event in Rome 20/10/17

METRANS UF Conference presentations 17/10/17

Citylab at the Civitas Forum 27/9/17

Living lab updates 27/9/17

CiTTi conference article 13/10/17

Living lab animation 25/9/17

Instant deliveries presentation 30/8/17

Consolidation and EV presentation 22/6/17

Newsletter #4 issued 31/5/17

Freight observatory findings 17/5/17

Right on time! presentation 9/4/17

Freight in the City presentations 1/3/17

Implementation dashboards now live 28/2/17

European Review of Regional Logistics (including feature on Citylab) 20/12/16

PARIS


Motivation and concept
The motivation for the logistics hotels is to reduce negative consequences of logistics sprawl:
Reduce vehicle emissions, noise and congestion at entry points to dense urban areas through consolidation and transfer to cleaner modes of transport
Provide efficient, modern logistics facilities to businesses serving the dense area of the Paris region
Increase mix of activities in specific areas of Paris: logistics activities, leisure, datacentre, shop/store, sport facilities, office spaces
Test new architecture, planning and urbanism concepts for the integration of logistics facilities in dense urban areas: form, acoustic, energy efficiency, integration of pedestrian flows
Two urban logistics building implementations are included, both run by SOGARIS a logistics real estate developer and manager (capital owned by Paris and neighbouring governments):
Chapelle International (Paris 18th arrondissement) will have mixed use facilities on a 24,000m² site including two logistics operations: an urban space for distribution, accommodating parcel and express transport operations using clean vehicles for the last mile; an urban rail terminal for consolidated deliveries of a large retail chain
Beaugrenelle (Paris 15th arrondissement), a 3,000m² logistics facility opened in 2013 out of the conversion of a former parking facility. Operated by Chronopost express, last mile deliveries are made by 10 electric vans and 20 diesel vans, with the objective of increasing the share of clean vans.
Chapelle rail terminal, January 2018 (Photo by Nicolas Lazarevic, IFSTTAR)

Implementation status and next steps
The facility at Beaugrenelle is in operation and data on the operations are being collected. Developing Beaugrenelle, they are now looking into the possibility of changing from electric vehicles to natural gas vehicles. The Beaugrenelle model allows the reduction of 35% of air pollutants, one-third through the use of electric vehicles and two-thirds through the pooling of logistics flows.

The building of Chapelle International is planned to open in April 2018. At the moment the main structure is finished. After inauguration, there will be 2 trains per day, the equivalent of 60 fewer trucks on the roads entering Paris. Urban distribution will be carried out by small alternative energy vehicles.

Sogaris plans to open a 39,000m² logistics hotel in Vitry sur Seine (Les Ardoines) by 2019, located 4km away Paris, adopting the same model as Chapelle International.
Cartoon illustrating the concept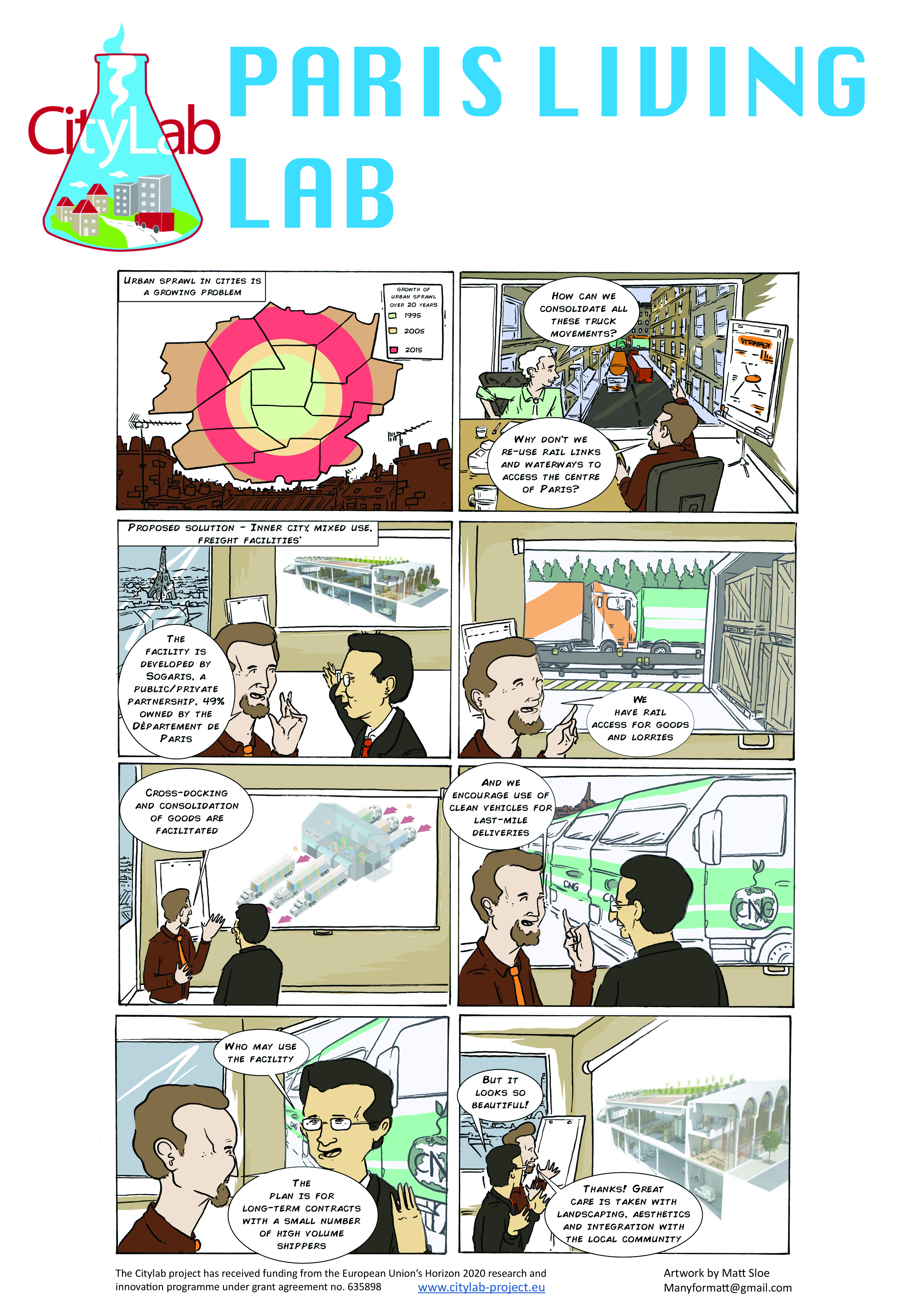 Cartoon produced by: Matt Sloe Link to full-size cartoon